Hiya LovePmites !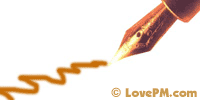 It is indeed with evident pleasure that we are bringing forth this much loved baby of ours into this world for everyone to behold and love.
But, unlike other parents, our baby was conceived for a reason and not just b'coz everyone's supposed to have one.
We all go through that moon struck phase of our life, when our heart misses a beat and flies o'er to the yonder hills. At that trying time, we just don't know how to react, whom to turn to. Parents - just won't do, friends - are in the same boat making a guinea pig out of you with their half-boiled suggestions.
So? LovePM.com ! People wizened with time and its tribulations offering mature advise that is actually their insight born out of actually living through it.
After almost 9 months of tireless toiling through the days and midnight oil burning, at last we can share our dreams , experiences, tips n' tricks, aspirations and our vision with you.
Our dream is now dressed up in the garbs of reality. Nonetheless, our goal seemingly impossible, unattainable and then making it happen. Dream dreams! Don't shirk from them. A vision is a dream converted into today's reality. Being able to successfully translate one's vision into actions makes one a genius. Inability to do so makes one a madman. Isn't a genius then nothing but a successful madman?
We call upon on all 'lovestruck' madmen to join our bandwagon of nuts and set the world ablaze with love.
Lotsalove.
from the LovePM desk.
P.S. In case of any problems resolve em with our own love wizard and in-house specialist Dr. Heart.
The Desk
-----

CONCEIVED, CREATED, DESIGNED & PRESENTED BY: